---
boob buddies
provides free in-home professional counselling to help children and adults cope with the unseen emotional side-effect of cancer. 
---
Welcome to boob buddies
boob buddies provides free in-home professional counselling to help children and adults cope with the unseen emotional side-effect of cancer. A side-effect which could ultimately affect tumour development, spread and therefore survival.
Our mission for today, and vision for the future, is to provide light in times of darkness, so that all children and adults, regardless of age, gender, race, or ethnicity, can find peace within and beyond their suffering.
Meet Barb Wood, Founder & CEO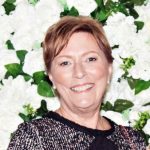 Barb is an Oncology Psychotherapist committed to helping children and adults cope with the unseen emotional side-effect of cancer. For the time Barb spends with these people she brings a slice of normality to their lives – they are no longer defined by their cancer, they are just themselves. She does this by placing great emphasis on 'the here and now', and by acknowledging the importance of 'hope' – the one thing cancer cannot take away.
"We make a living by what we get. We make a life by what we give."
Sir Winston Churchill
As a not-for-profit charity, without government support, boob buddies relies entirely on generous donors, both individual and corporate, to maintain our free in-home professional counselling services.
If you would like to help children and adults affected by cancer, please

*All donations are gratefully accepted, and tax deductible!
It is extremely important to take care of your mental health during cancer treatments! If you need our support, or have a family member or friend who could benefit from our services, please do not hesitate to contact 
boob buddies
 on:

0408 395 058

info@boobbuddies.org.au

Facebook
page.
---
Wishing you peace and love
Christmastime can be very challenging for people who are unwell.
At this very special time of year, it is so important to practice self-care – to be healthy selfish.
Remember…
It is ok to pause.
You are allowed to say no.
Your best is totally enough.
And, there is no such thing as perfect.
Being healthy-selfish helps to conserve energy…the very energy needed to cope with whatever the future holds.
At this very special time of year, also remember to give your family and friends the gift of time.
Wishing you peace and love,
Barb Wood XX
boob buddies Inaugural Charity Golf Day postponed
Unfortunately due to unforeseen circumstances, our inaugural Charity Golf day had to be postponed until early 2019.
We apologise to all those who have supported this event so far, and we hope that you will join us again in early 2019.
We will keep you informed.
Kind regards,
Barb Wood
boob buddies Inaugural Charity Golf Day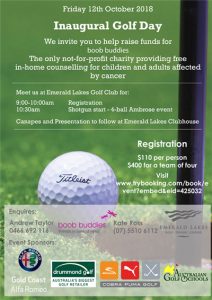 We invite you to join us at Emerald Lakes Golf Club Gold Coast on Friday October 12th to participate in our Inaugural Golf Day.
Registration is $110 per person, or $400 for a team of 4.
If you would like to sponsor a hole it is $1,000 – for this a team of 4 is included PLUS you get to promote your business on the day.
Ps. You could win an Alfa Romeo Giulletta Super valued at $36,000!
To view more details – Click Here!
boob buddies thanks Emerald Lakes Golf Club, Alfa Romeo, Drummond Golf, Cobra Puma Golf, and Australian Golf Schools for sponsoring our Inaugural Charity Golf Day.
boob buddies 2nd Annual Gala Dinner
August 4th at Sea World Resort – RSVP 25th July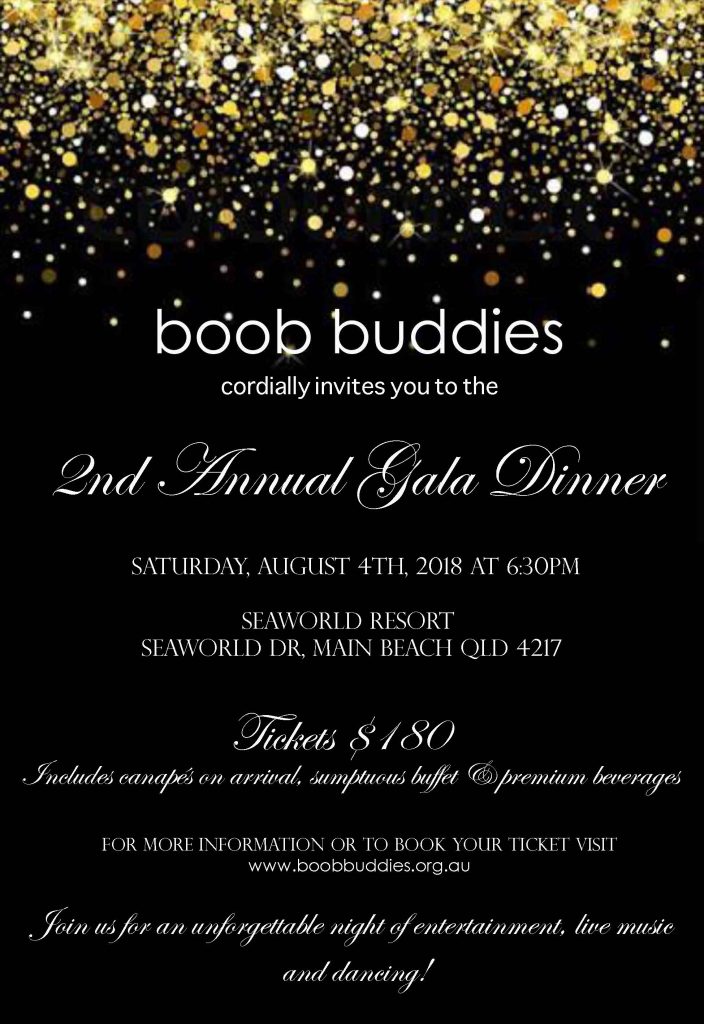 https://www.trybooking.com/VLVX
"boob buddies is the only not-for-profit charity providing invaluable free in-home oncology counselling to individuals and families living with the turmoil of cancer.
Emotional support is a huge unmet need for cancer patients, and without Government funding boob buddies relies on the generosity of sponsors, businesses and the public.
So spread the word, share this information, buy a ticket, and come along and have a great night!
To have not been touched by cancer in some way is a unique place to be in.
As people we need to better support the growing number of people 'living' every day with this awfully unfair disease.
I personally, cannot thank boob buddies enough for what they have done for me and my family."
Ms D. (Young mum living with metastatic breast cancer – cancer that has spread.)
$250 to sponsor a boob buddies MEMORY QUILT!
Memory quilts are a great way to wrap yourself in the thoughts of loved ones and forever hold them close.
Each boob buddies memory quilt has several blank squares on which pictures can be drawn, thoughts can be shared, and messages can be written.
For a small donation of $250 you can put a smile on the face of a child or an adult as they wrap themselves in their very own memory quilt – just like the Meer family did for Bonnie.
*If you know of someone who would love to have a memory quilt, or if you would like to know more about how you can help, please send an email to info@boobbuddies.org.au or call 0408 395 058
City of Gold Coast 2018 Australia Day Awards

Founder & CEO Barb Wood was nominated, as part of the City of Gold Coast 2018 Australia Day Awards, for Gold Coast Citizen of the Year.
Barb said she was honoured to be included amongst many other inspiring people who are striving to make a difference.
We are thrilled to announce that SeaWorld is now supporting boob buddies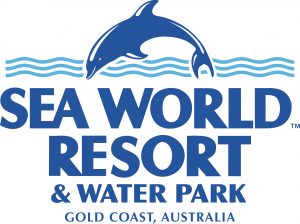 SeaWorld has kindly offered to help terminally ill patients create lasting memories. More news to come in 2018!
On the 29th July boob buddies held its inaugural Gala Dinner at the Surfers Paradise Marriott Resort.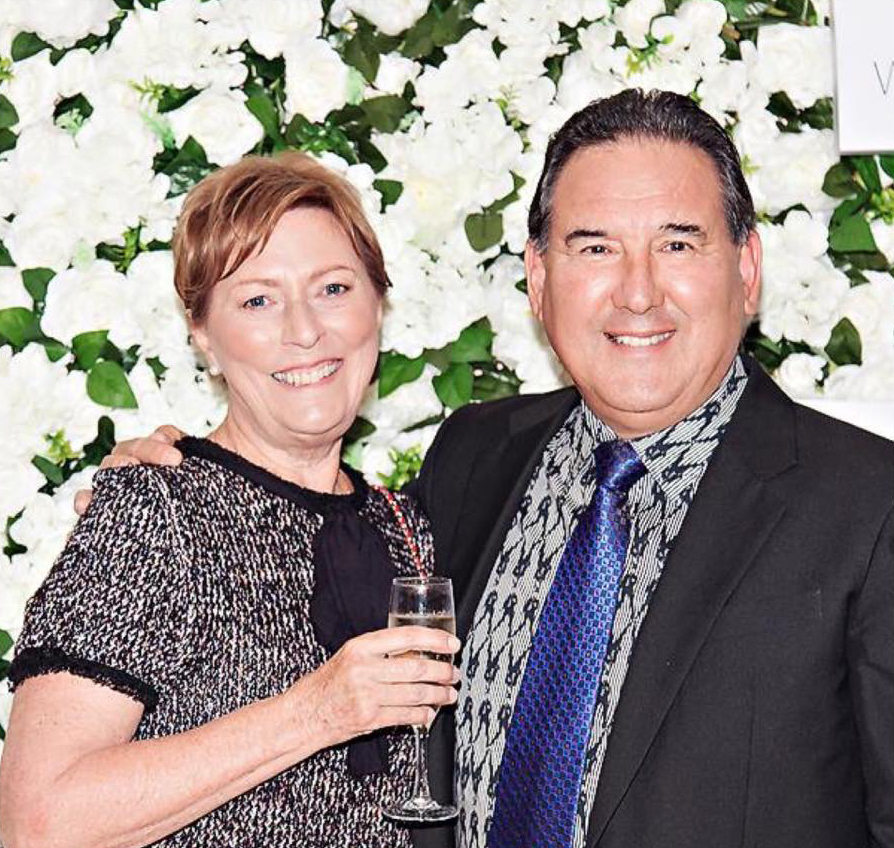 The night was amazing!
Not only did it mean so much to Barb to see everyone enjoying themselves, it also meant a lot to the young mums with cancer who danced the night away.
Special thanks to Robbie Bennetts at Robbie Bennetts enterprises and onPlatinum ICT, for emceeing our evening, organising the band, and helping to make the night a success.
Stress and Cancer
As we are all aware, a cancer diagnosis can not only have a debilitating effect on a cancer patient's immune system, it can also cause great emotional distress.
*New Australian research has revealed how stress can turn the body's lymphatic system into a super highway for breast cancer cells, allowing the cancer to spread more rapidly.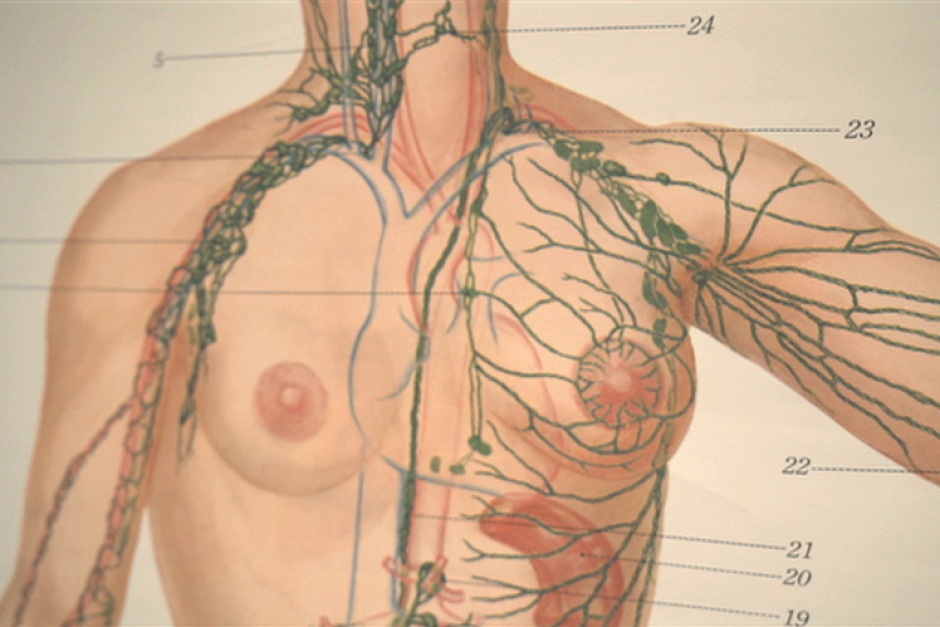 *Psychoneuroimmunology research, supported by new Australian research, suggests that stress can also alter the course of the disease, and can affect tumour development, spread and therefore survival.
Hence, it is crucial for people to be able to a) acknowledge their stressors…not as easy as it sounds, and b) develop and implement skills and strategies to cope with their stressors. I believe this is not an easy process and often requires the help and support of an Oncology Psychotherapist.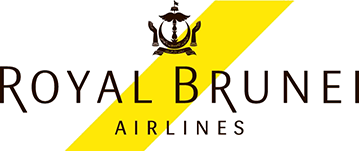 With thanks
boob buddies would like to thank Royal Brunei Airlines for assisting us as Barb heads off to Dubai to speak at the 'International Conference on Oncology and Radiology 2016'.
In an email Barb received from the Country Manager Australia he wrote "We hope that we can assist your charity boob buddies to provide others attending the conference the inspiration and motivation to replicate what you are achieving."
Barb also hopes that her talk will shed light upon the importance of providing the essential services, as offered by boob buddies, and that the doctors and other health professionals attending the conference will incorporate these essential services into their patient's treatment regime.
Barb is off to Dubai!
Barb has been invited to speak in Dubai at the 'International Conference on Oncology and Radiology' to be held in late October. Barb will be speaking about the importance of a 'holistic approach to cancer care, incorporating the benefits of free in-home, in-clinic, and/or in-hospital professional counselling'.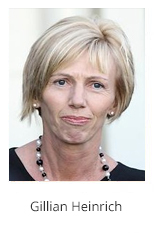 Congratulations!
boob buddies is happy to announce that our patron, The Hon Karen Andrews MP, is now Assistant Minister for Vocational Education and Skills, and Federal member for McPherson.
boob buddies is also very happy to announce that Ms Gillian Heinrich, of Gillian Heinrich Racing Stables, is now a Patron! After being diagnosed with bowel cancer, in late February 2015, Gillian is aware of the importance of looking after your mental health during cancer treatments.